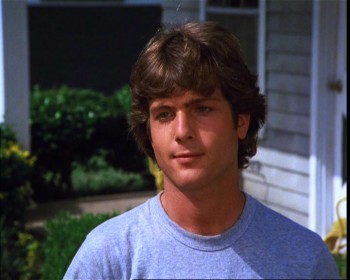 ABOVE: Timothy Patrick Murphy as Mickey Trotter.
Timothy Patrick Murphy was born in Hartford, Connecticut, on 3rd November 1959. He died in Sherman Oaks, California on 6th December 1988. He began his career appearing in television commercials, and after that he seemed to play mainly guest roles. His best-remembered must be the part of juvenile delinquent Mickey Trotter in "DALLAS" (1982-83). I regard this as his best role, and, after seeing him in this role, I was absolutely crazy about him!! He also starred in: "Glitter" (1984), "Hotel" (1984), "With Intent to Kill" (1984) - a TV movie released on video as "Urge to Kill", "Time for Miracles" (1980), "The Seekers" (1979), "Centennial" (1978), "CHiPS" (1982), "Quincy" (1982) and "Hunter" (1986). In 1984 he won the Young Artist Award for Best Young Actor (Guest) in a TV series for "The Love Boat" (1977). His final role, I believe, was the teen comedy "Doin' Time on Planet Earth" from 1988, the year he died.
Also, I received an e-mail from Mr R. Thomas who told me that Timothy Murphy also starred in "The Bushido Blade" from about 1979. Does anyone have any more information I can provide on this?